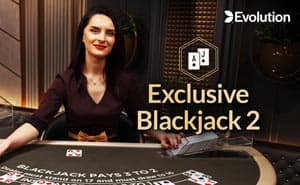 Exclusive Blackjack 2
Exclusive Blackjack 2 STATS
Provider - Evolution Gaming
Game - Blackjack
Game Type - Live Casino
Min Bet - £5
Max Bet - £2,500
Side Bets: Perfect Pairs, 21+3, Bet Behind
Chat Option - Yes.
In-game Guide - Yes.
About Exclusive Blackjack 2
Welcome to our Exclusive Blackjack 2 table, similar to our traditional Blackjack tables, the formatting of the game hasn't changed. To play, you must set your stake during the allocated time period by adding casino chips to your sections. Once the allocated timer has expired, the game will begin, cards will be dealt between the dealer and all players in-game. Once cards are dealt, you'll be able to play the game by standing, hitting or selecting one of the alternative options that you can read up on in the information section in the top right corner of the screen.
Exclusive Blackjack 2 Side Bet Options
There are three side bets that can be used in this variation of Exclusive Blackjack 2, they are:
Bet Behind
Perfect Pairs
21 +3
Bet Behind allows you to bet on another player to win against the dealer.
Perfect Pairs uses the two cards you receive and pays out depending on how good your pair is.
21+3 Uses your cards and the dealers upcard to determine payouts, these payouts are based on three-card poker payouts, such as Three of a Kind, Flush and Straight.
In-game Information for Exclusive Blackjack 2
There are a number of ways that you can learn more about Exclusive Blackjack 2 as you play, these are from the in-play options, which you can find using the descriptions below.
Payouts: To find the payouts in this casino game, hover over the game stake options in the top left corner of the screen.
Chat: To use the chat option, click the first button in the top right corner.
Settings: To alter the settings in your game such as audio and video quality, click on the fourth button in the top right corner.
History: To view the history of your games, click on the 5th button in the top right corner
How to Play: To view our guide on how to play Blackjack, click the far right button in the top right corner to find out everything you need to know to play.