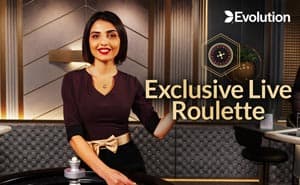 Exclusive Live Roulette
Play Exclusive Live Roulette
Exclusive Live Roulette Top features
You'll find several live roulette games made by Evolution Gaming that are exclusive to BetUK. They come with a fantastic set of bonus features and some unique functions which we'll be discussing below.
All of the Evolution Gaming exclusive live roulette games are equipped with stellar features that deliver a world-class experience. Games use multiple cameras to give you several views of the table, making sure you don't miss any of the action. You can follow every spin in great detail and can see the ball's journey as it makes its way around the wheel.
You can also save 15 betting formats and switch between these favourites on the fly. Access the statistics boards to get a detailed analysis of the game's progression. From here you can see a history of the winning numbers, as well as statistics about hot and cold numbers which can help you get a better idea of which numbers, colours, odds or evens are hitting the most.
These are ultimately live casino games and you can interact with both the dealer and other players through the chat system. It allows you to celebrate each other's victories and ask any necessary questions you might have about the game and its progression.
What makes Exclusive Live Roulette Unique
Evolution Gaming has all kinds of different exclusive live roulette variations on offer and it makes sure that all of these titles offer the highest standards of quality across the board. They bring land-based and online casino experiences together thanks to their 24/7 live dealers and you can even find native-speaking dealer tables which make the games even more accessible.
Type of Games
There are loads of different variations of live roulette and Evolution Gaming's exclusive games cover a lot of these iterations.
European Roulette is the standard option, where you get all the basics for a traditional roulette experience. But if you feel like playing a more complex game, then you might consider trying out Lightning Roulette. It's a visually stunning game that adds lucky number wins to every game round. You can boost your wins significantly with these multipliers, which can go up to as high as 500x.
On the other hand, if you're looking for a speedier experience, be sure to try out the Speed Roulette variation, where rounds are spun every 25 seconds. It makes for a much faster game, where you need to be ready to think fast and set your preferred wagers before the new round begins.
How to play Exclusive Live Roulette
How to Set Your Stake
You can use the bet level function to set your stake in Exclusive Live Roulette games. The restrictions on the bet levels vary from one game to another, but a simple plus and minus option will help you set your preferred level.
How to Spin the Wheel
These are live roulette games, so the dealer will decide when the wheel will be spun. You get some time to decide on your wager between rounds and the dealer will give you warnings when the closing time for that round is coming up.
Where can you find information in-game?
You can use the available game rules in the game's menu to get more information about specific games. You can also use the chat system to ask the dealer questions.