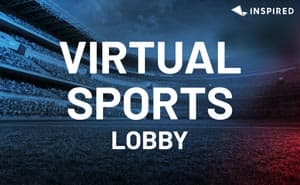 Virtual Sports Lobby
How To Place A Bet On Virtual Sports
Virtual sports betting is similar to traditional sports betting, although there may be less selection of markets. To get started, simply head over to our virtual sports markets, where you'll see our range of sports available. Click on your preferred sport, and you'll be able to watch the most recent event in our virtual sports interface. Just below the live video, you'll find the range of betting markets for the upcoming event. Simply click on your chosen market to add it to your bet slip. If you want to place more than one bet, then just choose a separate market and your selection will be added to your betslip to form an accumulator. Once you're happy with your betslip, set your stake and place your bet. Once your bet has been placed, simply wait for your event to start and watch it all unfold with Bet UK.
Types Of Virtual Sports Betting
Virtual Football Betting
Arguably the most popular sports for virtual betting is football. Each matchup will be played between two random sides, either club sides or international teams. For every match available, there's very similar markets on offer to traditional football betting. You can place your bet on the winning side, correct score or even the number of goals scored in each match. Once you've placed your bet, you can watch the highlights of the match and keep up with your bets. At the end of each match, all of the relevant stats will be shown on screen, so you can easily spot if your bet won or lost.
Virtual Horse Racing Betting
Virtual horse racing is another popular form of virtual sports betting. Running 24/7, each race lasts a couple of minutes and is filled by randomly generated horses. Each horse is given odds to win, which just like normal horse racing, determines the chance it has of winning. Below the video, is the full range of virtual horse racing markets available to bet on. You can choose your winner, place an each way bet or select a forecast for the next race. You can watch the entirety of the race on Bet UK, with a live tracker at the bottom, making it easy to track how your horse is doing.
Virtual Greyhound Betting
Virtual greyhounds almost mirror the actual sport, and with almost identical betting markets, it's hard to tell the difference. You can select your winner, place a forecast or choose an each way outsider for any race. Once your bet has been placed, you can watch the dogs run the track and follow your selection throughout the full race. Similarly to horse racing, a live tracker will be shown on the screen at all times so you can easily track your dog's progress.
Virtual Basketball Betting
Our range of virtual sports betting extends past the traditional sports, starting with virtual basketball. With a new sport such as basketball, it also brings a new range of betting markets available to choose from. As well as the winner of each match, you can also bet on the spread, or place a wager on the total number of points to be scored in the match. Just like virtual football, you will be able to watch some of the key possessions and shots during the match so you can get an idea of how the game is being played out.
Virtual American Football Betting
Virtual American Football betting is another sport Bet UK offers that you may not find elsewhere. Luckily, this is another sport that largely mirrors the betting markets that you will find for normal NFL events. You can place your virtual bets on the winner of the match, the number of points scored, or bet on the spread, which works in a similar way to the traditional Asian Handicap. As with any longer event, you will be able to watch the virtual highlights of your American Football match with regular score updates.
Virtual Motor Racing Betting
As the F1 season is fully back underway, you can also check out our Virtual Motor Racing. Just like in real life, a selection of virtual racers will speed around a variety of tracks in races that last just a couple of minutes. Before the race begins, place your bets on the race winner, each way racers, or choose the 3 racers you think will end up on the podium with a tricast. As the race starts, you can watch your chosen driver as he races around the track, or simply follow the live tracker for an easier view of your chances of winning.
Virtual Sports FAQ
Are virtual sports random?
Yes, virtual sports and their results are completely random, meaning each event is completely separate to the last. Form can't be taken into account and there is no pattern that can be followed. Instead, the result of every virtual sports event is worked out using RNG. RNG stands for Random Number Generator, and does exactly what it sounds like. A completely random number will be selected, which will then be used to determine the result of any virtual sports event.
Are virtual sports the same as E-sports?
Although they do sound like they should be similar, virtual sports betting and E-sports betting are completely different. Virtual sports are computer generated programmes that show the outcome of randomly generated events. On the other hand, E-sports are leagues and competitions in which the participants play video games. Popular E-sports games include League of Legends, DOTA 2 or FIFA. For more information on E-sports, take a look at our complete E-sports betting guide.
Do I need to know anything about a sport to place a virtual bet?
No, one of the positives of virtual sports betting is that no prior research is needed. When placing a bet on actual sport, you can spend hours doing research to ensure your bet has the best chance of coming in. But, as virtual sports events are all completely unrelated to each other, there is no form or past events to research. That means you can place a bet on a sport that you aren't necessarily an expert in.