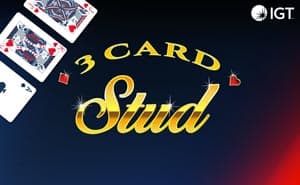 Three Card Poker
About Three Card Poker
Think you've got the poker face to hold your nerve against the dealer? However you answer that question, Three Card Poker may well be the online casino game for you, as there are multiple ways to play the game. You don't even have to challenge the dealer at all, you can simply back yourself with a 'pair plus bet', or if you're feeling flash you can do both.
IGT have opted to make the layout of Three Card Poker as straightforward as possible, so that players aren't bombarded with too many things on their screen. It also helps to immerse players, giving them a real-life casino experience from the comfort of wherever they choose to play online casino games.
Play Three Card Poker on mobile, desktop or tablet here at Bet UK.
How To Play Three Card Poker
The aim of Three Card Poker is to assemble a hand that ranks higher than the dealer's, so you're not competing against other players. Each hand produces a winner and a loser, or it's a tie, and bets are placed on how strong you think your hand is. Three Card Poker follows a linear game flow, which is as follows:
Bet
In Three Card Poker, there are two different main betting types that you can stake. The first is the Ante, and is placed before the cards are dealt. To stake it, select your bet value and apply it to the relevant space on the table.
The second main bet that players can place is known as the Play bet, and comes after the cards have been dealt. You either have the option to fold, if you believe your cards form a weak hand, or play on, if you believe they are stronger than the dealer's. Choosing to fold forfeits the Ante bet. If you choose to play then, you'll have to set a further bet amount.
Information
If you require additional information for Three Card Poker, you can access the paytable, player information, and the settings through the menu button in the lower left section of the screen.
Three Card Poker Bonus Features
Pair Plus Bet
In addition to the Ante bet, there's an additional wager that Bet UK players can place. The Pair Plus Bet can be played if you feel that you have a good chance of beating the dealer with a hand made up of a pair or higher. Needless to say, there is an added element of luck and risk involved, given that you won't have yet seen your hand. If the Pair Plus Bet wins, the payout will differ depending on the value of your hand.
Bet UK Three Card Poker Review
At Bet UK we're always looking to expand our best online casino games repertoire, and Three Card Poker is a great addition. Similar in style to Realistic Gaming's Blackjack, Three Card Poker provides players with a realistic casino experience, at a fast pace, and it is a fantastic way for new gamers to explore the world of online casino games. If you've enjoyed this poker variation, then take a look at our live casino, where you can play Live Three Card Poker, amongst other classic land-based casino games.