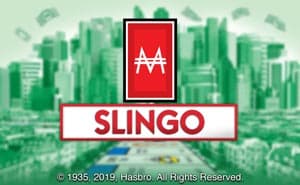 Monopoly Slingo
About Monopoly Slingo
Slingo games are a fantastic online casino innovation, but Monopoly Slingo manages to add even more unique gameplay features to the hugely popular mechanic. Instead of the traditional reel that spins to match numbers on your Slingo card, positions are crossed off by travelling around the board and landing on properties, with all properties of that coloured set being ticked off - for example, landing on Trafalgar Square will also remove Strand and Fleet Street from your card.
In another intriguing twist, you get to choose which of four game pieces you wish to have in play, either the Dog, Racing Car, Battleship, or the old favourite; the T Rex. Each of these will offer either 7 or 8 rolls as standard, 4, 6, 8, or unlimited extra rolls at the end of the round, and differing maximum prizes.
Play Monopoly Slingo - and other Monopoly games - on mobile, desktop or tablet here at Bet UK.
How to Play Monopoly Slingo
Total Bet
Use the red 'Stake' button to the left of the screen to alter your total wager for the next round.
Choose Profile
In the bottom left of the screen you will see the "Choose Profile" button. Use this to select your game piece, which can be the Dog, Racing Car, Battleship, or T Rex. Each will offer a different level of volatility, so make sure you choose the one that best suits your gameplay preferences.
Spin
Start a round of Monopoly Slingo by using the prominent 'Start Rolls' button to the right hand side of the screen. Rolling a double at any point during the round will award a free roll. Landing on a Joker space will move you to a property chosen at random. Chance and Community Chest spaces can lead to instant prizes, get out of jail free cards, and advance you around the board.
Monopoly Slingo Prizes
Prize Ladder
Each time you complete a line of five properties on your card, also known as a "Slingo", you will advance one position up the prize ladder to the left hand side of your card. Your current level will be indicated by the illuminated section. The specific values of each tier of the ladder will be dependent on your total bet, and the game piece that you have selected. Landing on all properties in a set will add a multiplier value to the available prizes.
Bonus Property
Only 25 of the 26 properties will appear on your card. The final one acts as a bonus, and if you land on it as you make your way around the board, you will be awarded an instant cash prize.
Free Parking
Passing GO! will add money to the Free Parking space. Landing on it will reward you with a cash prize worth however much has been accumulated.
Bet UK Monopoly Slingo Review
The addition of Rich Uncle Pennybags to online casino games often leads to hugely popular titles, as we've seen with Monopoly Live. This Slingo instalment looks as if it will continue that pattern, as unique and interesting features and bonuses have been added to an already exquisite format, with a range of top prizes and a level of engagement that may not be found in other Slingo offerings. Judge for yourself though, as you peruse our extensive collection via our What Are Slingo Games? blog.