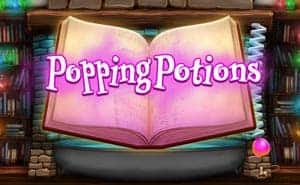 Popping Potions
About Popping Potions Slot
Popping Potions is an online casino slot game developed by Playzido - who are well known for Deal or No Deal: Box Picker - to feature 5 reels, 3 rows and 25 paylines. Following a wizarding theme, the Popping Potions slot is overseen by Professor Pippin who can make important moves as the reels are in motion. The highest paying symbol in the game is the spider, followed by eyeballs, a toad and mushrooms. Slot classics in the form of A, K, Q and J also make an appearance.
The bonus rounds are extremely unique and can be accessed by collecting vials and mixing potions together. By clicking Mix Spins, you can create one of the bonus potions; Each Way Pay, Lucky Reels, Random Wilds or Win & Respin. The Professor can also step in and throw a potion onto the reels, with the potential of a Gold Rush potion that can turn all 15 symbols on the reels Wild.
Play Popping Potions on mobile, tablet and desktop devices here at Bet UK.
How To Play Popping Potions Slot
Stake
To edit your bet amount in the Popping Potions slot game, click on the money symbol and select a new bet amount. The minimum bet that you can place in the game is £0.25 per spin, while the maximum is £40.
Spin
After you have decided on a bet amount, you can set the game to play through one full round by clicking the Spin button. Any wins accumulated will be paid into your balance straight away.
Information
Get some extra details about the Popping Potions slot game by heading to the menu and clicking the "i" button. You will be able to see how much each symbol is worth in a variety of combinations.
Popping Potions Slot Bonus Features
Potion Mixing
By collecting vials on the reels, you will be able to mix potions together in order to create bonus features and receive Free Spins. Once you have entered the potion mixing environment, four potion bottles are shown each with a certain number of vials associated with them. This part of the game is a drag and drop feature, for example the Each Way Pay Free Spins can be activated with just one vial. Other Free Spin rounds require more vials to be mixed, Lucky Reels (x3), Random Wilds (x4) and Win & Respin (x6). Professor Pippin will oversee the mixing process and can provide some useful insight. If you have enough vials there is even the possibility of mixing all potions together to add all 4 of the modifiers on the reels at once.
Each Way Pay
During the Each Way Pay modifier for the Free Spins, win lines can pay both left to right and right to left, providing different opportunities to win. This will cost 1 vial.
Lucky Reels
All of the low paying symbols on the reels will be removed, meaning that if wins are found they can be of a higher amount. This will cost 3 vials.
Random Wilds
This will turn a random number of positions on the reels into Wilds, meaning winning opportunities could occur. This will cost 4 vials.
Win & Respin
A respin will be triggered when each win occurs on the reels. This will cost 6 vials to activate.
Professor's Popping Potions
At any point in the game, the professor may step in and throw a potion of his own onto the reels and into the cauldron. In addition to the four potions listed above, there could also be the Gold Rush potion which can turn up to all 15 symbols on the reels into Wilds.
Bet UK Review
Bet UK online casino provides some fantastic slots that have unique themes and features, with Popping Potions one of the most individual. The potion mixing bonus is a great addition, and if you are able to collect enough vials you will be able to add all of the modifiers at the same time for potentially spectacular results. Playzido are also the brains behind Oliver Twist slot, which is well worth a look.