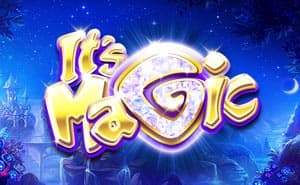 Its Magic
About It's Magic Slot
It's Magic is an online casino slot game that features five reels and four rows, along with 50 paylines. The symbols are all upbeat and the highest-paying include the larger Magician symbol, as well as the Book, the Lamp, the Chest, Two Cats and a Monkey. This is as well as traditional A, K, Q and J symbols.
In addition to the Wild Reel feature, a Free Spins bonus round can be triggered if 3 or more scatter symbols are found. The number of Free Spins awarded will depend on the number of bonus symbols found. The Magic Wheel bonus could also be triggered, causing it to spin. The slices on the wheel will contain prize values, as well as a Grand Jackpot and Royal Jackpot, both of which would trigger the respective Jackpot amounts should they be hit.
How To Play It's Magic Slot
Bet
The number of coins needed to place a bet is set at 75, but the coin value can be edited. Simply use the + and - buttons to either increase or decrease it. This means that the minimum Total Bet for a single spin is £0.75, while the maximum bet is £150.
Spin
If you'd like to play through a full spin of the It's Magic slot game, click the Spin button found to the right of the reels. Any wins landed will be credited to your balance immediately.
Autoplay
You can use Autoplay in the It's Magic slot to play through a set number of spins automatically. Click the Autoplay button just above Spin and choose between either 10, 20, 30, 40 or 50 spins. You can choose to stop Autoplay at any point by clicking the stop button.
Information
Click on Paytable to bring up information on the value of each symbol in the game, as well as details on the Wild Reel feature and Free Spins bonus.
It's Magic Slot Bonus Features
Wild Reel Feature
After any spin, if a high paying symbol that is not the Magician covers an entire reel, all symbols in that reel will be turned into Wilds for the next spin. Wilds will substitute for any symbol other than the bonus symbol.
Free Spins
As mentioned, at least 3 scattered bonus symbols on the reels will trigger the Free Spins bonus. The number of bonus symbols found directly correlates to the number of Free Spins awarded:
3 Bonus Symbols: 10 Free Spins
4 Bonus Symbols: 12 Free Spins
5 Bonus Symbols: 14 Free Spins
6 Bonus Symbols: 16 Free Spins
7 Bonus Symbols: 18 Free Spins
8 Bonus Symbols: 20 Free Spins
9 Bonus Symbols: 22 Free Spins
10 Bonus Symbols: 24 Free Spins
11 Bonus Symbols: 26 Free Spins
12 Bonus Symbols: 28 Free Spins
13 Bonus Symbols: 30 Free Spins
14 Bonus Symbols: 32 Free Spins
15 Bonus Symbols: 34 Free Spins
16 Bonus Symbols: 36 Free Spins
17 Bonus Symbols: 38 Free Spins
18, 19 or 20 Bonus Symbols: 45 Free Spins
Magic Wheel Bonus
The Magic Wheel bonus could be triggered on any base game spin that doesn't award the Free Spins bonus. You will be given a single spin of the wheel, where you could be given a prize value, the Grand Jackpot or Royal Jackpot. Jackpot wins are multiplied by Coin Value, with the Grand Jackpot worth 5,000 while the Royal Jackpot is worth 100,000.
Bet UK It's Magic Slot Review
Bet UK online casino are proud to list another slot title from IGT, this time in the form of It's Magic. The enchanted and magical theme makes this game feel like something special, plus the opportunity to win either the Grand Jackpot or the Royal Jackpot really adds to the overall online gaming experience.