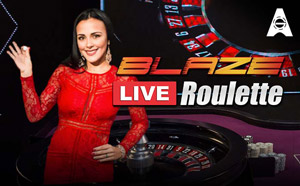 Blaze Live Roulette
About Blaze Roulette
Roulette is one of the best live casino games there is, known throughout the world, and it remains immensely popular. Live Roulette is a staple of our online casino, but we can never have too many tables. Authentic Gaming's Blaze Roulette allows you to set the camera angles to suit your preferences while you play in a fully immersive environment, with a live dealer that guides you through each round.
Play Blaze Roulette on mobile, desktop or tablet here at Bet UK.
How to Play Blaze Roulette
Bet
Use the chips at the bottom right of the screen and place them on the relevant section of the racetrack on which you wish to bet. Chips can be stacked if you so wish. You can wager on inside bets such as single numbers, outside bets such as red or black, and call bets (sometimes known as French bets) such as Orphelins Plein.
Learn How To Play Roulette Online
Spin
The live dealer will announce when final bets are to be made, and then will spin the Roulette wheel. At the end of the round, the winning number will be declared, and any winning bets will be settled.
Bet UK Blaze Roulette Review
Roulette is a very simple game to play, and requires luck over skill, which perhaps goes some way to explaining its immense popularity. Authentic Gaming have a wide range of table games on offer, but Blaze Roulette offers a fresh level of engagement, largely due to the multiple camera angles and fresh graphics on offer that make you feel as if you are in a land-based casino environment. Despite the fact it's down to chance, many Roulette strategies do exist, which can help to add to your gameplay experience. For further Roulette games, you may be interested in the dynamic Lightning Roulette, or for further innovative offerings from our live casino, the popularity of Crazy Time is soaring.
Roulette Blogs